Sign on mobile device
You can set up iOS, Android, or Amazon smartphones and tablets as kiosks, or simply hand the devices over for customers to sign. The mobile applications function with or without an active internet connection. Our app syncs all captured waivers to the cloud as soon as you are back online.
Sign on computer browsers
You can also put the waiver link on your website, or provide the link to customers in an email. Your customers can then open the link in any modern browser and sign with a keyboard and a mouse.
* Remote signing supports Safari, Chrome, IE9+
Request waivers directly from groups
WaiverForever can also request waivers directly from customers. Simply specify how many people are in a group and their email addresses and WaiverForever will generate a special link to keep track of how many have signed. This is a great way to handle group reservations remotely.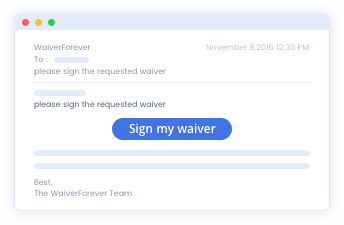 Splash page
WaiverForever provides you with a customized splash page where you can incorporate your logo, body text, and lists of waivers for different customers to sign. Not only can the link become a convenient central signing point for all your waivers, but it can also become a useful tool for developing marketing campaigns. Additionally, your splash page can be optimized for using a device as a signing kiosk.
Photo capture before, during, or after an event
WaiverForever allows you to personalize the photograph-taking process for free. You can define the image capture size, the delay before taking a photograph, and the number of the images to be taken during the signing process. Later, you can also attach unlimited images to a signed waiver to keep your customer profiles up-to-date with no time constraints.
* Photo capture only available for WaiverForever mobile client software with Android and iOS support.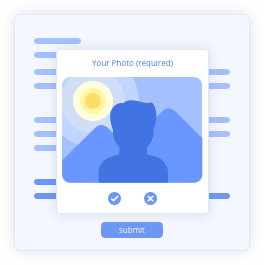 Driver's license scanning
All WaiverForever client apps come with the driver's license scanning feature for free*. Simply place the bar code on the driver's license in front of the camera and WaiverForever automatically fills in personal information for you. The feature works effectively when you need to check in a large number of guests in a short period of time.
* Driver's license scanning only available for WaiverForever mobile client software with Android and iOS support.
Customized waiver only for your business
WaiverForever allows you to add images, text fields, surveys with short answers, or multiple-choice questions into your waivers to collect customer insight and better brand your service. With greater flexibility, these customized fields will help you better collect data and make better decisions in the future.